Posted on Aug 30, 2018
Rotary Day at the United Nations celebrates two organizations' shared vision for peace and highlights the critical humanitarian activities that Rotary and the UN lead around the world.
The event also honors people who make a positive difference in their community, their country, or around the world. Each year, about 1,000 guests attend.
Who attends?
Rotary Day at the United Nations is open to the public. The audience includes:
Rotary International president and Board of Directors, Rotary Foundation Trustees, other Rotary leaders, and Rotary club members
Leaders from the United Nations
Experts from other nongovernmental agencies
Renowned humanitarians
Young leaders who attend to exchange ideas, learn about the UN, and meet international leaders
Rotary Day at the UN 2018
Under this year's theme of "Youth Innovation: Crafting Solutions to Emerging Challenges," Rotary will honor six innovators who are under age 35. More than 750 participants will attend the event on Saturday, 10 November, at the United Nations Information Centre in Nairobi, Kenya. Rotary leaders, UN officials, and humanitarian experts will educate and inspire participants to find innovative strategies for addressing humanitarian challenges at local, regional, and global levels.
General and breakout sessions will address the UN Sustainable Development Goals and how to harness the technological revolution for good, as well as young people's role in creating change. A special session on the environment will highlight the importance of environmentally sustainable development and offer concrete actions that everyone can take to ensure a clean and healthy world.
The event will feature an Innovation Fair where Rotary clubs, businesses, and other organizations will exhibit humanitarian projects and cutting-edge technology that can help address the challenges we face.
The event is open to Rotary members and guests. REGISTER HERE!!
Posted on Aug 30, 2018
Sushil Kumar Gupta, of the Rotary Club of Delhi Midwest, Delhi, India, is the selection of the Nominating Committee for President of Rotary International for 2020-21. He will be declared the president-nominee on 1 October if no challenging candidates have been suggested. Gupta wants to increase Rotary's humanitarian im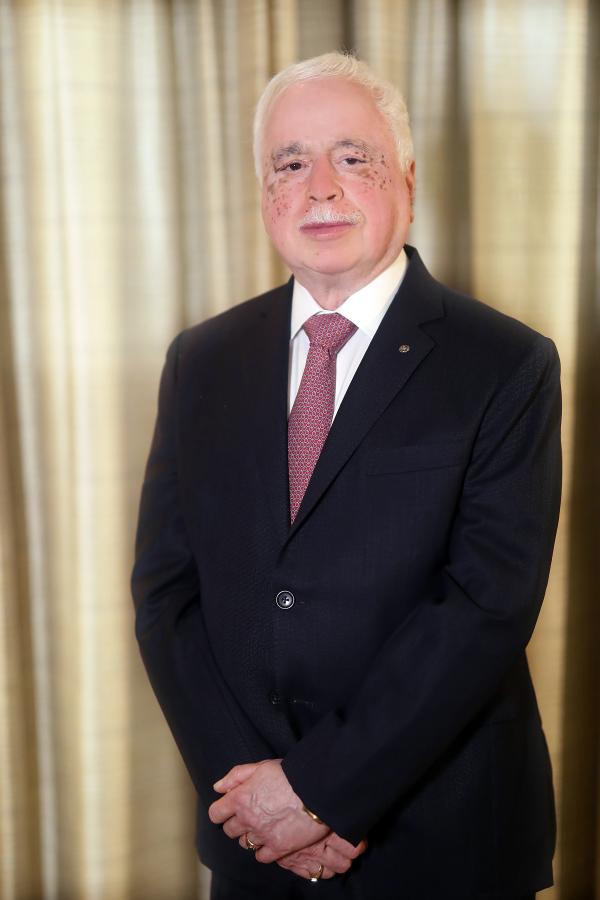 pact as well as the diversity of its membership. "As individuals, we can only do so much," Gupta said in a statement. "But when 1.2 million Rotarians work together, there is no limit to what we can achieve, and in the process, we can truly change the world." Gupta has been a Rotarian since 1977 and has served Rotary as district governor, training leader, and resource group adviser, and as a member, vice chair, or chair of several committees.
To learn more about Sushil Gupta, read this interview and vision statement outlining his goals for Rotary.
Posted by Trevor Reed on Aug 16, 2018
The Rotary Club of New Holland will hold its 3rd annual Rotary Rocks community benefit concert on September 14, 7-10 PM, at Funck's Restaurant in Leola (365 W Main St, Leola). Join us for an evening of live music and fun to benefit those in need in New Holland and surrounding communities. Proceeds from the event will be used to help support the expansion of the CrossNet Food Pantry. Entertainment will be provided by the classic rock and alternative rock sounds of the Slack Adjusters and the rock/funk/blues mix of The Reed Brothers Band. Both bands feature Rotarians from the New Holland club.
Posted by Barbara Basile on Aug 30, 2018
The Boy Scouts from BSA Troop 39 introduced the Rotary Club of Mount Joy to Peach Dump Cake during the regular Rotary meeting on Tuesday, August 21. Troop 39 Scouts also conducted a knot training demonstration for the members. President Mark Rorabaugh opened the program with a quote from Boy Scout founder Robert Baden-Powel, "The spirit is there in every boy; it just has to be discovered and brought to light."
The delicious peach dump cakes were made in traditional Dutch Ovens on the Gathering Place grounds. Assisting in the preparation and serving the cakes were Ross Cray, Kyle Klink, Jordan Echterling, Nick Golden, Dillon Greenig and Liam Laffey. The Scouts were under the direction of Scoutmaster Clay Golden.
For more details and pictures, review the Mount Joy Rotary Club's Facebook page. If you are interested in being a guest at a Rotary Club meeting call Mark Rorabaugh at 717-653-4717.
Posted by Alex Hayes on Aug 30, 2018
The Rotary Club of Gettysburg will host A Rotary Oktoberfest on Oct. 13 at Battlefield Brew Works, 248 Hunterstown Road, Gettysburg.
Music will be provided by the nine-piece German band Egerlander from 2 to 6 p.m. Ticket includes meal of a German Beer Brat or hamburger, kraut, potato salad and more served by Rotarians. All food sales will benefit The Rotary Club of Gettysburg. Beer, wine and liquor will be available for purchase separately at the event.
All proceeds benefit the Rotary Benevolent Fund at the Adams County Community Foundation in memory of John W. "Jack" Phillips, a 46-year Rotarian and Community Foundation founder who died Aug. 18, 2018. Advanced tickets will be available at the Gettysburg Times, Battlefield Brew Works or by
clicking here
. Tickets will also be available at the door.
Posted by John Gephart on Aug 30, 2018
The Colonial Park Rotary Club awarded its annual Colonial Award to Rex Rothrock. The Colonial Award is given each year to a member of the community that has done an outstanding job of volunteerism and has made a major commitment to the betterment of our community. (Pictured L-R) Colonial Park Rotary Club Immediate Past President Melanie Walderon, Rex Rothrock, Deanna Rothrock and Colonial Park Rotary Club Foundation President Randy Sibert
Posted by Steve Grubb on Aug 16, 2018
The 4-Way Essay Contest, open to 9th Grade Students in District 7390, has undergone some major modifications for 2018-19. First, the topic of the essay has changed. The Four-Way Test originated when Herbert J. Taylor wrote the four familiar questions in the course of transforming a failing aluminum company to a thriving, profitable one. Seizing upon this history, this year we will ask 9th Graders to write an essay on How Rotary's Four Way Test helps me confront or deal with the issue of failure? We felt this topic was particularly appropriate as recent studies are showing that the younger generation is experiencing spikes in anxiety and depression stemming from difficulty in handling adverse situations. We are hoping the Four-Way Test can be a resource for students as they confront these issues in the coming years. We are also planning to change the essay prompt on a yearly or bi-yearly basis to keep the contest fresh and relevant to students.
Second, over the past several years, clubs were asked to coordinate with 9th Grade English teachers who would do an initial screen of the essays prior to submitting the best ones to the sponsoring club for evaluation. If this works for you – great! No need to change. Some clubs, however, expressed that teachers were losing interest in the contest and burning out after several years of participation. No knock against these hard-working teachers, but giving them, essentially, another set of papers to "grade" is a lot to ask. We are now encouraging clubs to think of creative ways to receive entries to the contest. For example, you may choose to coordinate with a teacher to offer the contest at schools in your service area, but instead of having the students submit their entries through the teacher, have the students mail or e-mail the essays directly to your club for review. How you receive the entries is now up to your Club. We are hoping that flexibility in this area will make the contest more attractive to local Rotary clubs, and will generate many more entries.
Finally, we are stressing that you make the contest available to ALL ninth-grade students in your service area. This includes public and private schools, as well as home schooled students. Many home-schoolers have parent groups that may allow you to reach out to a number of home school students through one communication. Also, don't forget about cyber schools. If you have a contact with a cyber school, see if they might consider offering the contest to their students. Please be cognizant, however, that the contest is limited to cyber school students who physically reside in our district.
The new, revamped Essay Contest rules and critical dates are
available here
! It is time to start organizing! We hope that you will consider getting involved in this exciting new chapter for the essay contest.
Posted by Nigel Foundling on Aug 16, 2018
Arch Klumpf, considered to be the father of The Rotary Foundation, said in 1930: "Money alone does little good; Individual service is helpless without money; The two together can be a godsend to civilization." Service to our local and global communities is our mission as Rotarians. Financial support for service projects is available to Rotary clubs through grants directly from the District (District Club Grants) and from The Rotary Foundation (Global Grants). Generally speaking District Club Grant projects are for smaller, usually local, projects whereas Global Grants are for larger international projects. All clubs are encouraged to make use of these grants and the Foundation Coordinators as well as members of the Grant Committee stand ready to answer questions and assist as needed.
Clubs requesting grants must meet two basic requirements. First, the club must have a current Memorandum of Understanding (MOU) signed by the club president and president elect. Secondly, at least one, and preferably two or three, club members must complete the on-line grant training within the current or past Rotary year and must appear as one or more of the contact persons for the grant.
District Club Grants
District Club Grant projects support short-term, humanitarian projects that benefit local or foreign communities. Once a year, a club may request grant funds for a project or may collaborate with another club's project. There is a maximum of five clubs per project.
You are encouraged to be creative and select projects that meet special needs in your local or global community. Some projects done in the past include: refurbishing playgrounds and parks, books for literacy projects, supporting youth development projects, assisting with a family health festival, collecting and purchasing food for a food bank, providing dental care in Honduras, and providing clean water to foreign villages.
The District Grants Committee reviews each grant application for the appropriateness of the project based on Rotary International's humanitarian guidelines. Upon approval, clubs will be matched on a dollar for dollar basis up to $2,500, based on the amount of funds available and the number of grant requests. Clubs must submit a grant intention form by March 15, 2019 for a grant in the 2019-20 Rotary year. The full application will be due April 30, 2019.
Global Grants
International projects with budgets exceeding $35,000 are best served with a Global Grant (GG). Due to District and Rotary International matching, properly qualified clubs may have the money raised for a project multiplied by 3.5 - i.e. A club raises $10,000 and can then do a project with budget of $35,000. This requires a strong relationship with a Rotary club (known as the host club) in the country where the project is to be done, a needs assessment, and documentation that the project is sustainable. The project must fit into one of Rotary International's six areas of focus.
Our goal is for all Clubs to participate in Rotary Grant projects for international or local community service. Grant seminars are provided by the District throughout the year to help Rotarians better understand the grant process.
For additional information contact:
Nigel Foundling, Chair
D-7390 District Club Grant Committee
860 Lovers Lane
Lebanon, Pa 17046
717-274-3566
or
Kathleen Stoup, Chair
D-7390 Global Grant Committee
12 Blue Mountain Vista
Mechanicsburg, PA 17050
717-249-9446
kathleenstoup@yahoo.com
Posted by Hector Ortiz on Aug 10, 2018
The Rotary Leadership Institute (RLI) is a multi-district, grassroots leadership development program of member districts organized into regional divisions in various parts of the world. RLI is an opportunity to meet with other Rotarians, share experiences, and learn new skills to take back to your club. It's amazing what informed and enthusiastic Rotarians can do to improve their clubs, their communities, and the world.
You don't have to be in the leadership chain to benefit from this institute. If you want to learn more about this wonderful organization that we call Rotary, and find out what you can actually do to start changing the world, put attendance on your schedule. Join us Saturday, October 13, 2018 from 8:00 a.m. to 3:30 p.m. at Central Pennsylvania College (600 Valley Road, Summerdale). Register HERE!!
What is RLI? A leadership and development program to strengthen Rotary Clubs through education, collaboration and the exchange of ideas among its future Leaders. A three-part curriculum facilitated by experienced, trained faculty members engaging participants through open discussion, problem solving and creative role-play.
When can I attend RLI? Saturday, October 13, 2018 from 8:00 a.m. to 3:30 p.m. at Central Pennsylvania College (600 Valley Road, Summerdale, PA 17093).
How do I register? Click here!
What will I learn at RLI? More about Rotary, The Rotary Foundation, Membership, Ethics, Service Projects, Communications, Strategic Planning and Analysis. You'll also make new friends, and enjoy fellowship and networking opportunities.
Course Levels: Parts I, II, III and Graduate
Where can I find more information about RLI? www.rlinea.org
Want to download a flier? Click here!
Questions? Contact PDG Hector Ortiz, richie1166@msn.com or 717-608-0444.
Posted by Jeffry Cadorette on Jul 26, 2018
Hello Everyone,
We all get many, many, emails from Rotary and on Rotary related topics. I'm respectfully requesting you give your attention to this one. Our topic is the upcoming event planned from September 20-22 in Montreal.
Formerly known as the Zone Institute, we have renamed it the Zone Conference. So, what's the same, and what's different. The Institute was originally designed to motivate, inspire, and educate past, current and incoming district governors. That has not changed. We want and need as many past governors in attendance because we know there is a critical mass of that talent and leadership that can make an event magical. The pledge of the entire planning team is that the event will be worthy of your time and resources.
What has changed. Historically attendance at a Zone Institute was restricted to those in the Governor line. If that wasn't you, you weren't allowed to register for the entire event. What we know though, and there are examples repeated over and over again, is that club and district Rotarians who have been able to interact with District Governors (past, present, and future) they get inspired by them and become more engaged in our organization. They get more involved. They aspire to higher levels of leadership, some of them even getting on the Governor track. (Our organization and our Zones need more of that engagement NOW)
We decided to facilitate that process and open up Montreal to ALL Rotarians. We want to facilitate and be a catalyst for that engagement between our Governors (and their knowledge, leadership skills, and commitment) and club and district Rotarians. The goal is that it will be meaningful for all. The goal is that the event will speak to all who attend.
Click here for the program and registration information.

Take a look at the program.

Share the link with Rotarians in your club and in your area. (please)

Register! (please)

Come and enjoy the wonderful city of Montreal.

Come and renew old friendships, and create new ones.

Mingle with RI President Barry Rassin and his wife Esther and other Rotary leaders from around North America.

Participate in the facilitated discussion group breakouts. Share your knowledge. Glean new morsels to take back home with you.
Be inspired by world class speakers.
On behalf of the entire Montreal planning team, we look forward to being with you in September. We appreciate you. Thanks for your consideration. Reach out to me personally with any questions.
jeffrycadorette@gmail.com
Jeffry
RI Director, 2018-20