Posted on Jan 16, 2019
Rotary International President-elect Mark Daniel Maloney explained his vision for building a stronger Rotary, calling on leaders to expand connections to their communities and to embrace innovative membership models.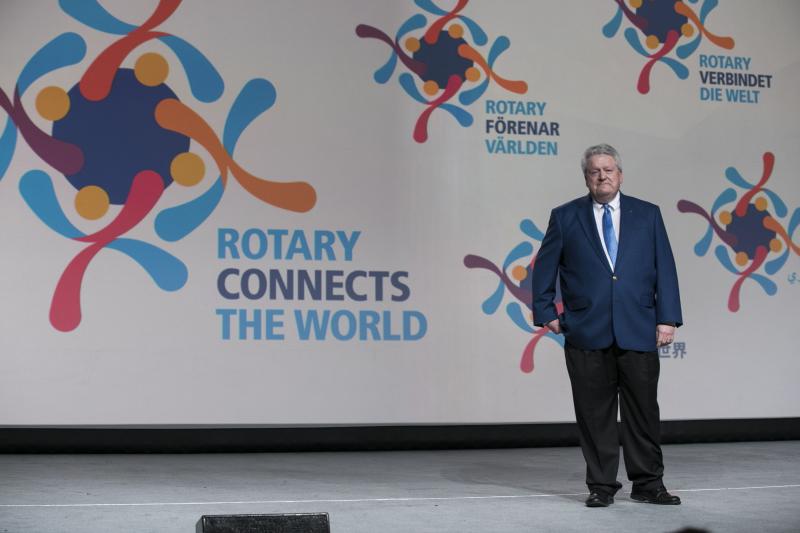 Posted by Janice Black on Jan 17, 2019
You never forget the teacher who makes a difference...
Do you know a math teacher who has a special way of making learning numbers fun for students? Or a science teacher who opened a new world for your child? Nominate an extraordinary teacher for the 2019 Teacher Impact Awards!
WITF is proud to partner with Rotary District 7390 to present the Teacher Impact Awards supported by Franklin & Marshall College.
Deadline for Nominations - February 28, 2019
Posted by Melissa Bruck on Dec 06, 2018
RE-ENERGIZE YOURSELF, YOUR CLUB AND OTHERS THROUGH THIS POWERFUL EXPERIENCE!
Gain tools to be a more productive leader.
Learn the skills to more effectively lead people through tensions and conflicts.
Become inspired.
Posted by Ashleigh Fishel on Jan 10, 2019
The Rotary Club of Red Lion-Dallastown presents "The York Area Keyway to Dining Guide", our new club fundraiser! Our club has partnered with local restaurants to provide a dining guide to some of the best culinary treasures in our area. This York Area Keyway to Dining Guide offers a tour of 9 fantastic participating restaurants:
Bring your York Area Keyway to Dining Guide with you when eating at a restaurant for validation. Each restaurant has specific guidelines based on their unique menu offerings. Each offer is valid in each restaurant only once and may not be duplicated. Enjoy using your York Area Keyway to Dining Guide knowing you are helping provide funds for local high school scholarships.
Please secure your own York Area Keyway to Dining Guide for just $40 and support these local businesses who support our Rotary Vision! Contact Ashleigh Fishel at
lauraashleigh67@gmail.com
to purchase yours today!
Posted by Ralph Jodice on Jan 17, 2019
Members of the Rotary Club of Hanover braved 23 degree temperatures to take down Christmas decorations in the Hanover Town Square. Pictured in front of the Rotary gazebo are Ralph, Karen, Walt, Holly, Jason, Bob and Paul.
Posted by Alden Cunningham on Jan 17, 2019
The Rotary clubs of Mechanicsburg, Mechanicsburg North, and West Shore along with the Northern Tier Steering Committee will host the 48
th
RMB networking event in its history in Rotary District 7390 on Wednesday, February 20 at the Classic Rock Fabrication, 135 W Allen Street, Mechanicsburg, PA. The event will begin at 5:30 and end at 7:30 pm. The cost of this event will be FREE thanks to generous sponsors who remain to be determined. A RSVP link will be made available next week so MARK YOUR CALENDARS AND SAVE THE DATE!!
Posted by Sarah Thomas on Dec 13, 2018
Uptown York Rotary Club Presents Dueling Pianos!
Saturday, January 26, 2019
7 p.m. - 10 p.m.
Elks Lodge #213
223 N George Street, York, PA 17401
Join Uptown York Rotary and dance the night away with 80's-themed music from the Piano Dudes!

Your ticket includes: Great live entertainment and Heavy hors d'oeuvres
There will also be a cash bar and silent auction.
Tickets are $45 each, and proceeds will benefit UYRC's Community Giving Grants.
Purchase your tickets
here
.
Posted by John Judson on Jan 17, 2019
Dr. Alan Peterson is a friend of Past District Governor John Judson and a fellow member of Physicians For Social Responsibility. He has offered to serve as a
speaker
for one of your upcoming meetings. I highly recommend him as a speaker due to his expertise on this timely subject and his presentation style.
Dr. Peterson is a family medicine doctor having seen patients and taught resident physicians for over 40 years at Lancaster General Hospital. His title is Emeritus Director of Environmental and Community Health at LGH. He have been giving free talks for several years at service groups, church groups, medical groups, etc., on Climate and Health, including to other Rotary Clubs. His talk has been well received from the discussion that ensued. Please contact Dr. Peterson at alan.peterson@pennmedicine.upenn.edu or 717-413-0486.
Posted by Hector Ortiz on Jan 10, 2019
Posted by Melissa Bruck on Dec 13, 2018
District Club Grant projects support short-term, humanitarian projects that benefit local or foreign communities. Once a year, a club may request grant funds for a project or may collaborate with another club's project. There is a maximum of five clubs per project.
You are encouraged to be creative and select projects that meet special needs in your local or global community. Some projects done in the past include: refurbishing playgrounds and parks, books for literacy projects, supporting youth development projects, assisting with a family health festival, collecting and purchasing food for a food bank, providing dental care in Honduras, and providing clean water to foreign villages.
The District Grants Committee reviews each grant application for the appropriateness of the project based on Rotary International's humanitarian guidelines. Upon approval, clubs will be matched on a dollar for dollar basis up to $2,500, based on the amount of funds available and the number of grant requests.
Please adhere to the following deadlines when applying for a District Club Grant:
March 15, 2019 - Grant Intention Forms Due (Must be signed by 2019-20 Club President)
April 30, 2019 - Full DCG Application Due
Your Club MUST also be qualified to request a grant. Please follow these steps for qualification:
Complete a Memorandum of Understanding (MOU). This form MUST be signed by the 2019-20 and 2020-21 Club Presidents.
Complete the On-line Grant Training found

here

. You must watch all 5 videos and complete the assessment tests.
Once the grant training is completed by at least one member of the Club and the MOU has been submitted to the District office, the Club will be qualified to participate in a grant until June 30, 2020.
All Grant Forms and more information regarding Grants can be found
here
.
Posted by Melissa Bruck on Dec 13, 2018

Rotary Youth Leadership Awards (RYLA) is Rotary's leadership training program for young people. RYLA Emphasizes Leadership, Citizenship and Personal Growth.
Do you know an outstanding Junior that has what it takes to become a dynamic leader and change not only themself but the world?
Rotary Youth Leadership Awards (RYLA) is an intensive leadership experience organized by Rotary District 7390 (South Central PA) where students develop their skills as leaders while having fun and making connections. The 2019 RYLA Conference will be held June 9-13, 2019. This will be the 59th Consecutive RYLA in Rotary District 7390.
Students must be between their Junior and Senior year in high school to attend. Approximately 140 High School youth attend annually.
The schedule includes various speakers, career seminars, a challenge course, team building activities, a conference band and chorus and much, much more.
What are the benefits?
Students will connect with leaders in their communities and around the world to:
Build communication and problem-solving skills
Discover strategies for becoming a dynamic leader in their school or community
Learn from community leaders, inspirational speakers, and peer mentors
Unlock their potential to turn motivation into action
Have fun and form lasting friendships